Don't you just love three day weekends? And then the work week is only 4 days! Win-win! As this weekend is coming to a close, I'm thinking about cleaning the tornado that hit our house and catching up on some Vampire Diaries, but first let's see what's on the ol' Google Reader.
I love this photo by The Daybook – Dear Uggs - "Stop it." Seriously. I've seen so many crazy Uggs this season. Completely gold metallic things, fur things, terrible, terrible creations. Love her face!
Dear Uggs: Stop it.
Let's get to business…
Does Tylenol Worsen Asthma For Kids? – NPR
More NPR goodness, Skip The Spoon: Babies May Eat Better When They Feed Themselves.
Ignore the fact that this baby looks drunk. I can't help but agree that we seem to insist on shoving down food with spoons in our babies mouths. Why not let them feed themselves?
The Post Partum Baby Bump: The Truth Revealed with Pictures – Birth Without Fear

I love me some postpartum belly photos. Why? I don't know. My belly is still fine (oh.thank.you.jebus.) after two kids but other things changed…so I guess it is just nice to see how our bodies change after kids. We are not little girls. We are women. We birth babies!
Booby Traps Series: Can teen moms beat the breastfeeding odds? - Best for Babes
I find the statistics of breastfeeding fascinating and at the same, very sad. They are never very good. Quote from the article, "It is true that young moms breastfeed at lower rates than older moms. CDC data from 2007 births show that 60% of moms younger than 20 initiate breastfeeding, compared to 79% of moms over 30.  And duration rates differ even more by age:  by 6 months 22% of mothers over 20 are still breastfeeding, but 51% of mothers over 30 are still going." 

8 Ways Natural Birth Is Good For Breastfeeding – by Mama Birth
Yay natural birth! Yay breastfeeding!
And finally, celebrity gossip…
Helen Flanagan barely manages to stay in her plunging, flesh-coloured frock – Daily Mail
Who is this girl? What an awful dress. Not just because it barely covers anything up top. It is a bad color on her, saggy in the middle, her hair is crazy…Whatever. Do dresses like these make you laugh like they make me laugh? Boobs in general make me laugh now because whenever my toddler sees them she says, "boobs! boobs!" and that's all I can think of when I see cleavage. That they are for babies and shoving them up to high heaven just makes them more delicious for babies.
More dresses…
Kate Moss and Yasmin Le Bon arrive at Stella McCartney party in same optical illusion dress
I wouldn't wear either. And what is wrong with her eye makeup? Come on now! In fact, every single dress in this article is pretty terrible. Rihanna's is OK…as a nighty.
I would really like to end on a positive note but I don't really see anything that good…though this was sorta interesting…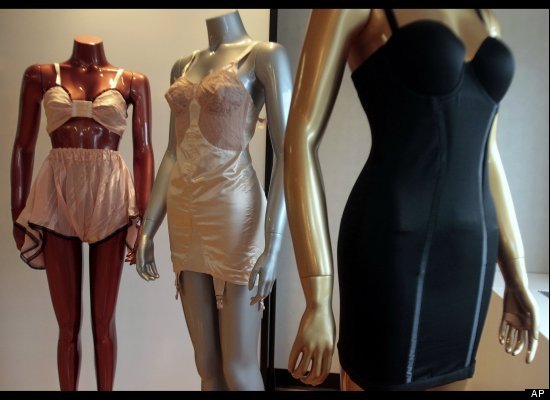 OK, enough for today. Enjoy the rest of your three day weekend!