Happy Thursday!
I can't wait until the weekend. What a long week it has been. Here are my sweet links for today.
Enjoy!
Beyonce Breastfeeds Blue Ivy in Public – Us Magazine
Way to go Beyonce! Be a proud breastfeeding mama!!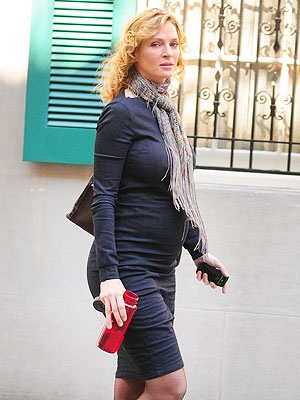 BumpWatch: Uma Thurman Debuts Her Belly - People
Photo: Susan Waters/Startraks
Go Uma!
Have you seen this yet?
I saw this floating around Facebook yesterday. Who knows where it really came from. But if you've seen anything about contraception and forced transvaginal ultrasounds, this actually isn't that funny.
Who doesn't find this type of article interesting?
Relationship tip: Keeping the sparks flying - Cup of Jo
Love this photo too!
67.2% Vaginal Birth Rate- Proof That Female Bodies Still Work
by Mama Birth
Interesting way to look at the sad c-section rate. And who knew only 3% of women (in this birth survey – Listening to Mothers Survey) birthed in the upright position?
Wow. I wonder what the homebirth position rates are.
Treading Raging Waters: 11 DEADLY mistakes you didn't know you were making!
Hint…Car seat safety
Another parenting hot button: Immunizations. Where do you stand? All for 100% of them? Delayed? Against? I just came across this little post and thought I'd share.
"…over a decade ago, in a statement to the U.S. House of Representatives Subcommittee, as executive director of AAPS, Jane Orient, M.D. wrote:
For most children, the risk of a serious vaccine reaction may be 100 times greater than the risk of hepatitis B. Overall, the incidence of hepatitis B in the U.S. is currently about 4 per 100,000. The risk for most young children is far less; hepatitis B is heavily concentrated in groups at high risk due to occupation, sexual promiscuity, or drug abuse. VAERS contains 25,000 reports related to hepatitis B vaccine, about one-third of which were serious enough to lead to an emergency room visit, hospitalization, or death. It is often assumed that only 10% of reactions are reported. (This committee has heard testimony about persons being actively discouraged from reporting, even if they are aware of the reporting system.) Thus, if there have been some 80,000 serious adverse reactions associated with 20 million doses of vaccine, the risk is about 4 in 1000…." Read the whole story.
Back to other parenting decisions and tips.
Their short list?
1. There's no such thing as a perfect birth.
2. Brace yourself for hormonal moments.
3. It's OK to ask for help.
4. You might not "bond" at first.
5. Loosen up and PLAY!
6. Read to your baby.
7. Don't blink
What do you think? What would you add?
Bad Moms Lose Their Tempers Sometimes – Bad Moms Club
Yea. Guilty.
My recent posts: